Dear Members,
Thank you to all of the members that shared their ideas about our upcoming renovation. After evaluating many options we have determined what projects will be included in Phase 1 of the renovation. We expect work to begin on all of the initial projects in the next 90 days. Projects for Phase 1 include: new tennis court lights, remodeled fitness center, new fitness equipment, pool and spa repairs, new social gathering area nearby court 1, BBQ area in the vicinity of the pool, new landscaping where applicable and lights in our parking lot. We continue to evaluate what other upgrades will be included in Phase 2 of the remodel. We will update you when we have additional information.
With the rainy season upon us I would like to review the court policies for rainy days. The courts will remain closed until the entire blue surface and 6 feet of the green surface behind the baseline is dry. The courts are evaluated individually and will only be released for play once it is determined they are completely dry. This is for both our member's safety and to prevent damage to the courts. Courts will be released to members based on their original reservation times. If you have an 8:30am doubles reservation and it is determined the court is ready for play at 9:00am you will have your court until 10:00am. As always, if your court is not reserved at 10am you will be permitted to remain on that court.
We are proud to announce that WAC has once again been selected by the USTA to host the National 45+ Hard Court Championships in June. This tournament is an event that both our members and the local community look forward to every year. We are looking for local companies that would like to become a part of this event. In return we will market your business to our members and the local community. In addition your sponsorship will include sponsorship advertising in the USTA 45+ National Tournament publication. If you are interested in becoming involved in this exciting event, please contact me at jsutcliffe@caclubs for additional details.
As we announced both in December and January newsletter, WAC went paperless with our statements as of January 1st, 2015. Please take a moment to log onto your WAC account and view the online services available. If you do not recall your user name and password or if you need online credentials reset, please contact Shari at sgianini@caclubs.com or 818-889-6164. If you would like to continue to receive paper statements please let us know. Thanks in advance for helping WAC become a greener organization.
Have a Healthy Day,
John Sutcliffe
General Manager
Life At WAC
Super Bowl Sunday Tennis Tournament

We had a big turnout at WAC's Super Bowl Tennis Tournament event on Sunday, February 1st. Lots of fun games, great food, brilliant tennis, and meeting new friends! Congrats to the Seahawks, WAC Super Bowl Tennis Tournament Champions, 2015!
Member of the Month
Mark Frankcom – Riding On.
By Anna Griffin
Images, the Ventura County Star


Imagine being President of a non-profit, only to suddenly find yourself a patient needing their assistance.

Mark Frankcom, President and board member of Ride On Theraputic Horsemanship, and longtime member of Westlake Athletic Club, has always believed in the difference horses can make with adults and children with physical and cognitive disabilities. and the benefits of the therapy offered at Ride On's Chatsworth and Newbury Park centers. And he should know.

Mark suffered a cavernoma or "brain bleed" while on a stopover in London last May, on his way to a business trip in India. "I went to bed normally and didn't wake up. I was in intensive care for two weeks and don't remember any of it."


Not anticipated to make a full recovery and with the possibility of paralysis, the inability to speak, or brain damage, doctors call his recovery miraculous. Mark returned to the US in June, beginning physical, occupational and speech therapy, and while he has some residual side effects, he feels great. Having resumed activities such as swimming two to three times a week, walking around Westlake, and working out with a personal trainer, he believes Ride On's therapy program will help him mentally and physically, emphasizing the beneficial effect of a horse's movement on patients. "It's a lot more movement than my body's used to, but it's exactly what I expected."

As for 2015, Mark says all is looking good. " I've started working again, I'm swimming a few times a week at the club, and am feeling great!"

WAC is both grateful and honored to have such inspirational members like Mark, whose fighting spirit we've come to appreciate and admire.


What's New At WAC?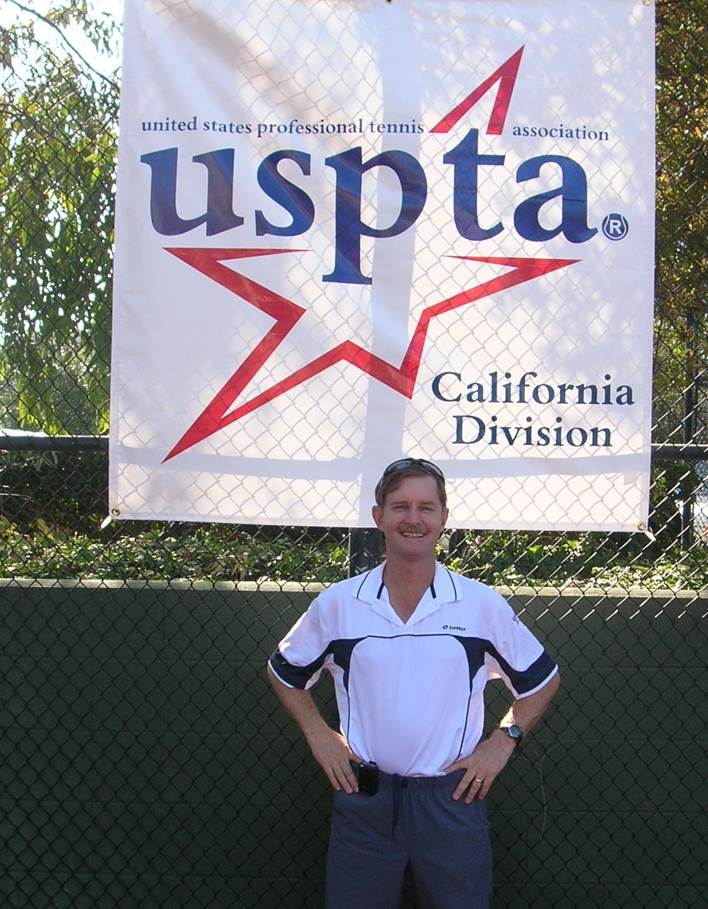 Sunday 9am – 10:30am, Karl Akkerman is "Putting on a Clinic." It is AKA Skills, Thrills and Drills. After a good warm up, a "Shot of the Day" is introduced for about 6-8 minutes and the rest of the Clinic incorporates this shot so that you can practice and use it in one of many fun competitive live ball drills, with lots of laughing involved. There is always high-energy fun with Singles and Doubles strategies incorporated in the drills, and you will sweat and get in a good workout each and every time.

Wednesday 6:30-7:30pm, Karl also puts on a warm-up clinic for the Mixed Doubles league, so you can win that first set because you are ready. High energy with competitive live ball drills make this clinic fun and always lots of laughs.
NET Fitness with Chris Dudeck
With the New Year upon us it is time to put those New Year's resolutions in place. Start your 2015 off right with a tennis inspired health and fitness program lead by Chris Dudeck. Whether you are looking to improve your game or are in need of a lifestyle change we have just the program for you. NET fitness will give you the results you are looking for in 2015. Give the gift of fitness to those you love. Download the flyer here


Fitness Stuff
Meet your Trainers
Jared Tavaolian
Jared has a bachelor's degree in Kinesiology from CSUN with over 13 years experience in the field. Jared managed a corporate training facility where he was in charge of training and nutritional consultations for 500+ employees. Jared is certified in Yoga and for the past 2 years has been specializing in gymnastic training and hand balancing. He has traveled across the globe to study from the best in the world. Jared uses a blend of Yoga and mobility to restore lost range of movement and combines it with body weight strength training to keep his clients ready for the any challenges that life throws at them. Jared believes "before anything else we are movers and my goal is to help clients break down the barriers that are limiting their ability to move." Jared's extensive background and unique talents bring an exciting new dimension to our fitness programming.
Jared will be teaching both one-on-one personal training and small group strength training with 6 to 10 students per class. Stay tuned for a list of days and times.
Patti Markowitz
Patti has been helping people stay healthy and fit for over 20 years. Patti feels that fitness is the cornerstone to overall health and wellness and that getting fit is the first step to gaining a new and healthy lifestyle. As a certified personal trainer Patti specializes in custom training routines and likes to challenge and encourage her clients to surpass their physical and mental boundaries. As your trainer she will take your health and wellness personally, working alongside you to help achieve all of your fitness goals. With your determination and her dedication you can make anything happen.
Fitness Tip
Get More From Your Abdominal Training With These Tight Tummy Tips.
By Patti Markowitz, Personal Trainer

1. Draw In the Belly Button.
Before you begin your first rep, think about pulling your belly button toward your spine. Doing so helps to engage the abs deeply so you can get the most benefit from each rep. Pulling the abdominals in also helps you to flatten your lower back against the floor for increased support.

2. Haste Makes Waste.
Don't rush through your ab exercises, as this leads to sloppy form and not fully engaging the muscles. Instead, make each rep count by performing each move in a slow and controlled manner.

3. Train Abs Often.
Train abs 3 to 4 times a week. Like other muscles abs need some recovery time, but not as much as other muscles that move heavier loads like the legs. Consistent training will get better results.

4. Train Abs All Day.
In addition to doing focused ab work in the gym, concentrate on keeping your stomach pulled in and tight throughout the day, while you drive, work, and train other body parts. This will help strengthen the transverse abdominals, a deep abdominal muscle that when strengthened, helps to flatten the tummy and prevent lower back pain.

pattisfitness@aol.com


Nutrition Tip
Kiwi Orange Coconut Flu Busting Smoothie
By Anna Griffin


There's little that tastes better than a fresh fruit smoothie in the morning. They do wonders for the immune system and if you pack them with the right ingredients, they can supercharge your ability to not only prevent colds and flu, but shorten their duration when you're symptomatic. Here is an incredible smoothie recipe that is as delicious as it is nutritious.

Kiwi: Kiwi fruits are powerhouse vitamin C. They have 4-12 times more vitamin C than an orange, 3 times more than an apple and 60 times more than grapes. New Zealand researchers have shown that duration of a sore throat was cut from 5.4 to 2 days as a result of eating kiwi fruit.

Oranges: Citrus fruits like oranges protect the body through their antioxidant properties, strengthening the immune system, and can even inhibit tumor growth and normalize tumor cells. That's the power of an orange. Their zest (the shavings of their peel) are also high in vitamin C.

Coconut: Coconut oil is recommended for reducing the length of a cold or flu, taking 4 tablespoons of coconut oil a day when you're symptomatic. Coconut oil is one of the few foods that is anti-everything (i.e. bacterial, carcinogenic, fungal, parasitic, viral, etc). It even combats tooth decay.

Ginger: Especially when combined with honey, ginger is a well-known and age-old herbal remedy for cold and flu symptoms

Lemons: Lemons can be used as a natural insecticide and household cleaner. They also clean you. Reducing the severity of your cold and flu symptoms, they are also great for treating congestion and sore throats.

Cayenne Pepper: Cayenne Pepper turns down the heat on inflammation due to its powerful anti-inflammatory compound, capsaicin.

Honey: The anti-bacterial properties of honey have been revered for centuries, and so it is little wonder that it has been used for medicinal purposes all over the world. Daily consumption of honey is said to strengthen your immune system.

Flax Oil: Flax seeds are high in natural oils that convert into hormone-like substances in the body to reduce inflammatory substances.


Recipe (makes 3 large servings):
• 1 Cup Orange Juice
• 1 ½ Cups Coconut Milk
• 3 Kiwis
• 4 Oranges
• 2 teaspoons of Ginger (raw root ginger)
• ¼ (or ½ depending on tolerance) teaspoon cayenne pepper
• Juice of 2 Lemons
• 4 Tablespoons of liquid Coconut Oil (not hardened)
• 1 Tablespoon of Flax oil
• 4 Tablespoons of Honey (preferably Raw Manuka)

Remember to choose organic produce when possible, avoiding heavy pesticide-sprayed fruits and vegetables. Pesticides are toxic to the body and defeat the purpose of all the nutrients your body is absorbing.

Swimming Tip
Is it time to start swimming with a snorkel?
By John Sutcliffe
Front-mounted snorkels are showing up at more and more. They are now a common piece of equipment in the mesh bags of swimmers at all levels, from young age-group swimmers to Olympians.
Is it time for you to jump on the snorkel bandwagon? The front-mounted snorkel has already helped many swimmers (and triathletes) improve their technique, lung capacity and position in the water. All swimmers, from the beginner level to advanced, can benefit from using a snorkel.

One benefit of using a snorkel is stronger and more expansive lungs. Just imagine breathing air through a small tube while performing a hard set in the pool. Studies show an increase in VO2max and the body's ability to deal with carbon dioxide after regular use of a swim snorkel. The restricted airflow mimics the decreased oxygen in every breath that an athlete would experience during training at high elevations. Even easy swimming with the snorkel can improve breathing by encouraging swimmers to maintain a steady exhalation between inhalations. The main reason swimmers feel out of breath is that they hold their breath with their face in the water, and snorkels help correct that.
Wearing a snorkel in the pool can also help swimmers improve their technique. By removing the necessity of turning his or her head to breathe, a swimmer can relax in the water and focus on the small details of his or her stroke. A lower head position is easier to maintain without turning the head to breathe. A horizontal and streamlined body position can be achieved at a slower speed and easier effort level. Swimmers can focus on the entire catch, pull and finish phases of each arm stroke through the water. This is especially true for beginners who are just starting to get a feel for the water.


You will feel an immediate benefit from using the snorkel during kick and drill sets. You can kick continuously in a perfect streamlined position along the surface of the water without having to adjust your body to breathe. This helps you work on your balance and position as well as on improving your lung and leg strength. Single-arm drills, six-kick-switch, catch-up and sculling are just a few of the freestyle drills that you do with a snorkel. You can relax and focus solely on the small parts of the stroke, without worrying about running out of oxygen or breaking form to take a breath.
Like any other training toll, the snorkel should be used in moderation. Kick and drill sets are the ideal times for snorkel use. Sometimes the main set can be designed for snorkel use. Whatever you do, make sure you get the most out of using the snorkel. Don't use it as a crutch for an ineffective aspect of your stroke; use it to address your weaknesses and improve your flaws. Happy snorkeling!
Tennis Tip
How Do I Get Tennis Elbow?
By Karl Akkerman

Is it my racket? Is it my Strings? Is it my stroke? Is it overuse?

We Pro's get asked these questions a lot, and it boils down to one or more of the above. Many people contract tendonitis right after they purchase a new racket; sometimes it is a lighter racket so you change your stroke because you can. This causes different strain on your tendons, if you either become too wrist-y, or you miss-hit the ball and the lighter racket makes you feel the impact more intensely. New strings can also hurt your arm. If they are too lose or too tight depending on the string, I have heard players say that they changed them back and the pain went away immediately. Maybe you play a lot more and overuse comes into play? A huge mis-hit or many mis-hits on your racket can start the irritation or a slight tear can occur, and then it becomes worse as you play. It is the tendon rubbing outside its normal channel, and the only two ways to make it stop are to have it realigned by a chiropractor, or cease and desist all activity until the irritation goes away.

Because most of us are addicted to our tennis exercise, I would suggest visiting a sports chiropractor who will realign the tendon that may have moved out of its channel, and then ice and heat the area for a couple days to weeks. I have had tennis elbow once in my life and it was very painful. I was serving to my juniors in a different way than I usually serve, for about 20 minutes. I felt immense pain the next day, but my chiropractor had me back on the court in about a week. I couldn't believe it.

Bottom line, if you get tennis elbow and you've done something different (new strings, racket, overuse), change back after a little rest and ice/heat therapy. If it is very acute, see a chiropractor, and do some research on the web for exercises that will strengthen the arm. Better yet, strengthen the arm before you get the pain. Preventative is always better than cure, and there are very easy exercises that don't take much time. See me about a rubber bar that you twist. It's the most recommended way to strengthen your arms, only takes seconds each day, is kept in your bag, and used before and after you play. A simple way to reduce the risk of tennis elbow, avoiding an unnecessary trip to the chiropractor, and weeks off the court.
Group Exercise Schedule
| | | | | |
| --- | --- | --- | --- | --- |
| Class | Day(s) | Time | Teacher | Description |
| Yoga | Tue/Thurs | 9am | Cindy | Beginner/Intermediate |
| Yoga | Mon/Wed | 6pm | Beth/Cindy | Beginner/Intermediate |
| Fusion | Tue/Thurs | 6pm | Katie | Pilates/Yoga |
| Yoga | Sat | 8:30am | Katie | Beginner/Intermediate |
| Yoga | Sun | 9am | Katie/Cindy | Beginner/Intermediate |
Masters Swim
Joining a Masters group will benefit you about as much as you let it, depending on the amount of commitment you give. Many triathletes and open water swimmers who compete in events join Masters programs, while others join to compete in Masters swim meets. Many more, however, join but don't compete at all.
If you're on the fence about whether to join a Masters program or continue training on your own, consider the benefits:
A Structured Program
Masters workouts are structured programs for each practice. The programs are written by knowledgeable swim coaches and they will help you build endurance and speed. They will also be intensive enough to push you outside of your comfort zone.
So really, whatever your motivation to swim—triathlon training, open water swim races, or just staying healthy and fit—it pays to add some structure to your training sessions. Masters swim programs could be precisely the boost you need.
Coaching
Swimming is extremely hard to perfect without an outsider looking at your stroke. It's difficult to know where the flaws in your technique are without some coaching—in some cases, a lot of coaching.
Going from zero to good swimmer takes time, and oftentimes correcting a stroke is an ongoing process. Some swimmers have multiple flaws in their stroke, errors that need to be addressed one at a time.
For that reason, having a coach watching over you on a consistent basis will do wonders in cleaning up your flaws and getting you faster. Having Kari or Kevin on deck is a definite plus for those looking to improve in the water.
Competitiveness
Nothing pushes you like a workout partner—and in the case of swimming, a lane partner or two.
In many cases, you are sharing lanes at our workouts, usually with swimmers who are similar in ability to you. Keeping up with their pace—and making sure you don't get lapped—is enough of a motivator to keep your intensity level high during the hour-plus workout. A little competition goes a long way.
Consistency
WAC offers 7 workouts per week at either 5:30am, 12pm or 6:30pm —which helps establish some consistency in your training and makes it harder to "not have the time" to get your workout in. WAC workout schedule:

Tue & Thur 5:30-6:30am
Mon & Wed 12-1pm
Tue & Thur 6:30-7:30pm
Sat 7-8:15am

Camraderie
Swimming doesn't have to be lonely. Instead of showing up to the pool by yourself and chipping away at your workout, show up with a group of fellow swimmers and make some friends along the way. Swimming as a social sport is more fun than swimming as an individual sport.
All-Inclusive
If you didn't swim on youth club teams or in high school, sharing a lane with a lifelong swimmer can be intimidating. Coaches will help minimize the discomfort of new swimmers by organizing the participants into lanes with other swimmers similar to their speed and fitness level.
Take the plunge and come on out and join us!!
Masters Swim Schedule
Mon & Wed 12 to 1pm
Tues & Thurs 5:30 to 6:30am
Tues & Thurs 6:15-7:30pm
Sat 7 to 8:15am
Tennis Stuff
Video clip from Chris Dudeck, Co-Director at WAC
Video clip from Calle Hansen, Co-Director at WAC
Tennis Clinics
Clinic Rates:
(1 hour) $15 mem. $25 non.mem
(1.5 hr.) $20mem. $30 non.mem

CLINIC | DAY /TIME | PRO
Int. Clinic | Monday 9:30-10:30am | Lorene
Beg. Clinic | Monday 10:30-11:30am | Lorene
Int. Live Ball | Monday 6:30-8:00pm | Lorene
Serious Tennis | Tuesday 6:00 - 7:30pm | Chris
Cardio Tennis | Wednesday 9:00 - 10:30am | Chris
Men's Live Ball | Wednesday 6:30 – 8:00pm | Calle
League Warm-Up | Wednesday 6:30-7:30pm | Karl
Adv. Ladies Alter. |Thurs. 10:30 – 12:00 | Chris
Beg. Clinic | Thursday 6:00 – 7:00pm | Sandy
Live Ball | Saturday 10:30 -11:30am | Calle
Skills, Thrills & Drills | Sunday 9-10:30am | Karl
Match Finder
Steve Hamburger is looking for 3.5-4.0 players for singles and doubles. The group will play week days 8:30 to 11am. Steve will maintain an e-mail listing and help coordinate the matches. If interested please e-mail Steve at stevehamburger@gmail.com.